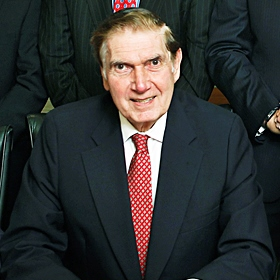 Seymour D. Reich
Seymour D. Reich served as Chairman of the Conference of Presidents from January 1989 to December 1990.
A long-time activist and leader in world Jewish affairs, Mr. Reich is an attorney with a passion for justice that extends far beyond the letter of the law. A senior partner in the firm of Gallet Dreyer & Berkey, he has held several of the highest positions in American Jewish life, serving two terms as President of B'nai B'rith International, two terms as chairman of the Conference of Presidents, two terms as President of the American Zionist Movement, and two terms as President of the Israel Policy Forum. He is also a past chairman of the International Jewish Committee on Interreligious Consultations (IJCIC).
Mr. Reich has been a fervent supporter of Middle East peace as well as a strong advocate of human rights causes. In his capacity as chairman of the Conference of Presidents, he served as chief spokesman of the world's largest Jewish community in its relations with the White House, the United Nations, the State of Israel and other governments around the world. After concluding his tenure as chairman of the Conference, Mr. Reich was named chairman of the National Task Force on Syrian Jewry, where he was deeply involved in the rescue of 4,000 Syrian Jews.
In his position as chairman of IJCIC, Mr. Reich urged the Vatican to open its World War II archives. Subsequently, he served as a coordinator of the International Catholic-Jewish Historical Commission, a panel of scholars from both faiths created by the Vatican and major Jewish organizations to study the role of the Vatican during the Holocaust period. The commission's report became a subject of controversy and received world wide attention. Mr. Reich was also in the forefront of the campaign to secure freedom of emigration for Soviet Jews.
In the international political arena, Mr. Reich has met with U.S. Presidents, Prime Ministers of Israel, and with key Cabinet members and leaders of opposition parties in the Jewish state as well as with the top leaders of foreign governments. In 1987, he was one of nine world Jewish leaders invited to the Vatican for an unprecedented meeting with Pope John Paul II on Catholic-Jewish relations. He also led a delegation of Jewish leaders to Rome in December 1990 for an historic meeting with the Pope on the 25th anniversary of the encyclical Nostra Aetate and has met with Pope Benedict XVI.
Mr. Reich was one of the first Jewish leaders to publicly support the release of Jonathan Pollard on humanitarian ground. In 1993, together with Elie Wiesel, he visited Pollard when he was in solitary confinement in the Marion penitentiary.
A Phi Beta Kappa graduate of the University of Pennsylvania, Mr. Reich received his law degree from Harvard, and was awarded an honorary degree by Tel Aviv University. He lives in New York.