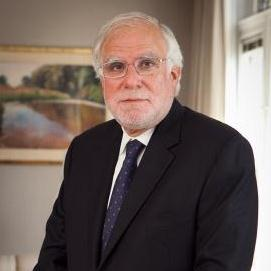 Professor Richard B. Stone Z"L
Professor Richard Stone served as Chair of the Conference of Presidents of Major American Jewish Organizations from 2011-2013.

Professor Richard Stone was on the faculty of Columbia University Law School, where he held the Wilbur Friedman Chair in Tax Law. He was also a venture capitalist, as well as the chairman of NCSJ, which advocates for the Jewish communities in the 15 republics that emerged from the Soviet Union.

He served as Vice President and on the Executive Committee of the New York JCRC and chaired its Government Relations Commission.

Prof. Stone was the chairman of the Institute for Public Affairs, the public policy arm of the Orthodox Union, from 1992 to 2002, and served on the board and Executive Committee of JCPA from 2005 to 2009. He also served as Mayor Rudy Giuliani's representative from Manhattan on the board of the City University of New York (CUNY) from 1997-2000.

In addition, Prof. Stone served as a member of the board of the Hebrew Free Loan Society, the America-Israel Friendship League, the American Zionist Movement, and the New York Metropolitan Coordinating Council on Jewish Poverty. Originally from New Orleans, LA, Prof. Stone lived in New York City and had four children.