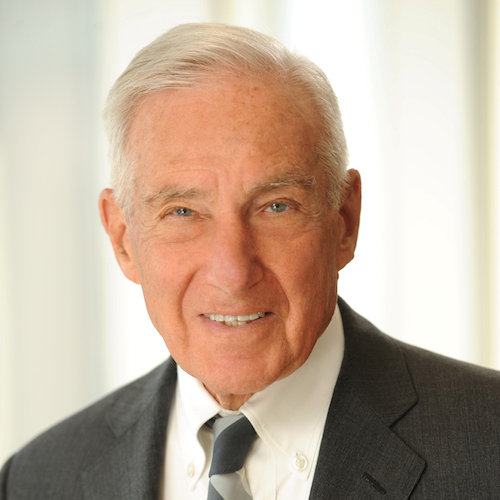 Kenneth J. Bialkin z"l
Kenneth J. Bialkin was Chairman of the Confer­ence of Presi­dents of Major American Jewish Organizations from July 1984 to June 1986.
He also served as National Chairman of the Anti-Defama­tion League of B'nai B'rith from 1982 to 1986, President of the Jewish Commu­ni­ty Relations Council of New York from 1989 to 1992, and President or Chairman of the American Jewish Historical Society from 1997 to 2007. He was also Chairman of the Board of the America-Israel Friendship League, Chairman of the Archive of the American Soviet Jewry Movement of the AJHS, as well as Secretary and a trustee of Carnegie Hall.
Mr. Bialkin was Of Counsel in the law firm of Skadden, Arps, Slate, Meagher & Flom LLP. From 1967 to 1987 he taught Federal regulation of securities at New York University Law School, where he was an adjunct Profes­sor of Law. A former chairman of the Business Law Section and of the Commit­tee on Feder­al Regu­lation of Secu­rities of the Ameri­can Bar Associa­tion, he was also past presi­dent of the New York County Lawyers' Associa­tion. He lec­tured and wrote exten­sively in the fields of corpo­ration finance and securi­ties regula­tion, and acted as director or adviser to several publicly traded companies.
Mr. Bialkin graduated from the Uni­versity of Michigan and Harvard Law School. He served as a director and chairman of the Audit Committee of The Municipal Assis­tance Corpora­tion for the City of New York, served as adviser to the Feder­al Securities Code Project of the American Law Institute and to the Corporate Gover­nance Project of the ALI, as well as on advisory commit­tees of the Securi­ties and Exchange Com­mission, the New York Stock Exchange, and the American Stock Exchange.